We like to work by providing every client with a free initial consultation, this will help us to establish whether we are able to assist you. The initial consultation comes without obligation to proceed further, and provides you with an opportunity to ask any questions.
At First Equitable we operate on a completely transparent basis with our clients. Depending on the nature of the work involved you may pay either a fixed fee or a percentage of the amount invested. This may be taken upfront as an initial charge and/or on an ongoing basis if portfolio management or regular advice is required. For certain business such as that related to mortgage and protection products, we may be remunerated by a procuration fee by the lender.
Click on the button below to download the Client Agreement and Service Proposition & Engagement Document.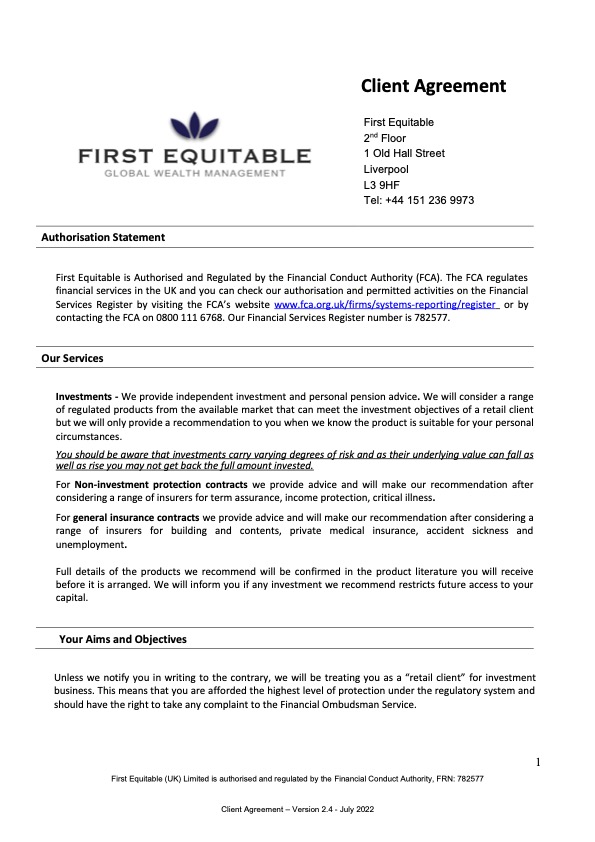 Our services will typically be exempt from VAT, unless the work involved is purely advice based, with no relation to specific products and services, in which case VAT may be payable. We will always confirm if VAT is payable before we undertake any work for you.
If you would like to receive full details of the fees charged by First Equitable, please download a copy of our Client Agreement below. Alternatively, if you would like to discuss your needs directly with an adviser, please give us a call or use the contact page to send us a message.
Take control of your financial future
Contact First Equitable today and take control of your financial future; together we will chart your journey towards achieving your goals and objectives.
Please complete the form below to download your selected guide.
"*" indicates required fields
We aim to respond the same day where requests are made within normal business hours (Monday – Friday, 9am to 5pm); or within a maximum of 24 hours (excluding weekends and bank holidays).
Should you wish to speak with someone immediately, please call our Liverpool office below:
First Equitable
1 Old Hall Street
2nd Floor
Liverpool
L3 9HF
Complete a short contact form and submit your enquiry.
"*" indicates required fields